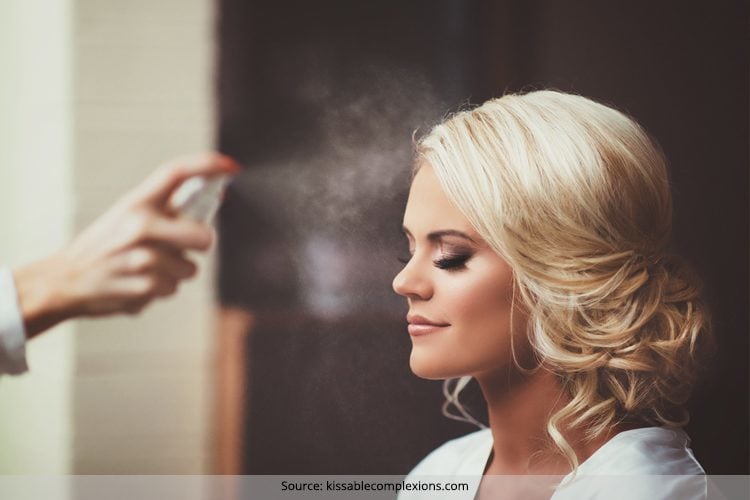 No matter whether you are going for a soft subtle look or planning to sport something loud and dramatic, a good setting spray for makeup is just as essential as good accessories. You spend hours in contouring your face, getting perfectly winged eyes or creating a sexy pout. Would you like it to turn all cakey or get washed away even before you step out your home? No way! Rather, you should invest in a hydrating makeup setting spray. Just a single spritz of it can prevent your makeup meltdown effectively. You will also get a natural dewy finish, which is certainly a plus.
If you are a do-it-yourself kinda person, there are tons of DIY makeup setting spray recipes available on the internet for you.
HERE, WE HAVE SORTED OUT 8 BEST LONG LASTING MAKEUP SETTING SPRAY
Next time your makeup won't slip off your face prior to the event. If time is a constraint, you can simply skip the homemade alternatives as mentioned above, and grab a bottle of a long lasting makeup setting spray available in the market.
1. M.A.C Prep + Prime Fix+
When it comes to the best quality makeup products, M.A.C. needs no introduction. Their Prep + Prime Fix+ is an amazing lightweight aqua-spritz intended for dry skin, which sets makeup in seconds and gives a fresh radiant look. The infusion is enriched with vitamins, minerals, antioxidants (from green tea, chamomile, cucumber, caffeine, etc.) and glycerin so that your skin gets everything to remain calm and hydrated.
Price: $22 for 3.4 fl. oz.
2. Urban Decay Chill Cooling and Hydrating Makeup Setting Spray
This hydrating makeup setting spray from Urban Decay delivers microfine mist and suits almost all skin types. It comes with the unique Temperature Control Technology, which cools down the temperature of our skin and averts the surface of the makeup from smudging. With this weightless spray, you can expect to keep your makeup intact as long as 12 hours. It is absolutely free from parabens, phthalates, sulfates, etc.
Price: $30 for 4.0 fl. oz.
3. MUA Pro-Base Makeup Fixing Mist
Not many fixing sprays are made for oily-skinned beauties. But this Pro-Base Mist by MUA should be considered as a highly effective makeup setting spray for oily skin for its formulation is based on acne-prone skin. Infused with aloe vera leaf juice, this lightweight spray with micro-fine mist can fix your makeup in its place for 8 long hours. Bonus? You will get a fresh luminous look in minutes!
Price: $7.85 for 60 ml.
4. e.l.f. Studio Makeup Mist & Set
If you are seeking a waterproof makeup setting spray that won't make a hole in your purse, you must give this e.l.f. one a try. It is an alcohol-free formula with an excellent blend of vitamins (A, C and E), green tea, cucumber and aloe vera, which helps in soothing, moisturizing and rejuvenating the skin. The only drawback of this mist is that it contains parabens, which is not at all good for our skin.
Price: $3 for 2.0. fl. oz.
5. Kryolan DermaColor Fixing Spray
Here is another budget-friendly option that can improve the wear time of your makeup to a great extent, especially if you have a greasy skin. Kryolan DermaColor Fixing Spray seals in the makeup, while keeping your face shine-free for a long time so that you get a smudge-proof flawless finish. But the best thing about this aqua-spritz is that it offers mild protection (SPF 20) from the harmful rays of the sun.
Price: $19.90 for 150 ml.
6. NYX Makeup Setting Spray
This extremely lightweight makeup setting spray for normal skin is a versatile product by NYX. It comes in both matte and dewy versions, which can give you a gorgeous shine-free look and a fresh glowing finish respectively. Both of the variants have long-lasting formula that prevents makeup from melting down fast.
Price: $8 for 2.02 fl. oz.
7. The Body Shop Vitamin E Face Mist
Those who are thinking of giving their skin a hydration boost by DIY makeup setting spray with glycerin should go for this awesome Face Mist by The Body Shop. Apart from glycerin, it contains the goodness of rose water, wheat germ oil and vitamin E, which keep the skin sufficiently hydrated while setting the makeup at once.
Price: $16 for 3.3 fl. Oz.
8. L'Oreal Paris Infallible Pro-Spray & Set
Last but not the least; you can also go for this Makeup Extender and Setting Spray from the Infallible range of L'Oreal Paris to maintain a 'just-applied' makeup look all through the day. This makeup setting spray for dry skin is rich in aloe vera juice, which locks in the natural moisture of the skin and seals in the makeup for hours so that you do not need any touch-up.
Price: $16.99 for 3.4 fl. oz.
Have you found the most suitable hydrating makeup setting spray for yourself? Do let us know by leaving a comment below.